Hi, my name is Natalie. I'm your Neurodivergent therapist.
I'm so glad that you're here.
My personal healing journey has led me to honour the power of art in the therapeutic process and better understand the complexity of human experience. As an artist and art therapist, I call upon creativity to help my clients resolve the consequences of past trauma and reconnect with their minds, bodies, and souls.
In my sessions, I provide a warm space for you to explore what lies beneath the surface through drawing, journaling, mindfulness, and somatic-based techniques. No art experience or elaborate supplies are necessary. Having worked with clients of many walks of life, I can confidently say that everyone is creative in their unique ways and that our bodies already hold everything that's necessary to heal.
If you are interested in gaining more insight into your thoughts, feelings, and patterns, and want to shift out of feeling stuck, I am here for you. Let's work together to find the source of the issue that's stopping you from living fully in the present moment.
My credentials: Registered Psychotherapist (Qualifying), Art therapist (DTATI)
CRPO license #11686
Currently all individual sessions are online.
Is my approach for you?
My approach can be a good fit if you:
- enjoy art
- experienced trauma
- see yourself as creative
- struggle with anxiety
- want to feel more present
- want to let go of perfectionism
- verbal therapy has not been effective
- feel stagnant in your progress
- struggle with low self-esteem
- feel stuck
- want to challenge yourself with a different therapeutic modality
- are ready for change
- identify with an ADHD, PTSD, GAD, ASD
What should I expect from an art psychotherapy session?
Please bring any art supplies that you have available. A pen and paper will work, too!
You can expect to engage in grounding exercises, breath work, body-based techniques, journaling and art making invitations. I will guide you into art at important moments in our session to capture the essence of what we are exploring. All of these exercises will be surrounded by conversations about your concerns, feelings, and goals.
This is a judgment free zone for your art. I am not an art teacher and I will not comment on your technique or artistic ability! I will, however, get curious about the personal meaning behind your work. Whether you are a professional artist or you haven't made art in 20 years, my doors are open. No art experience is necessary.
Art psychotherapy

If you enjoy creative self-expression, art, or identify as a visual learner, this option is for you.
It is a mix of verbal therapy and drawing.
$130 per 50m session
weekly or biweekly
limited sliding scale pricing available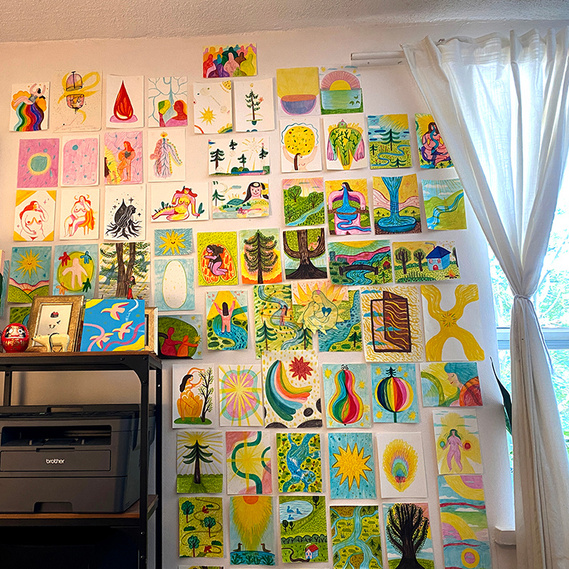 Consultations for artists
If you're a new, emerging, or established artist who is fighting with artist block
,

feeling

lost

in your style, needing advice on

entrepreneurship

or

mentoring

in developing your

artistic

career, this is an option for you!
Together, we will co-create a space to cater to your exact needs

and

artistic goals.




one-off consultation, weekly, or monthly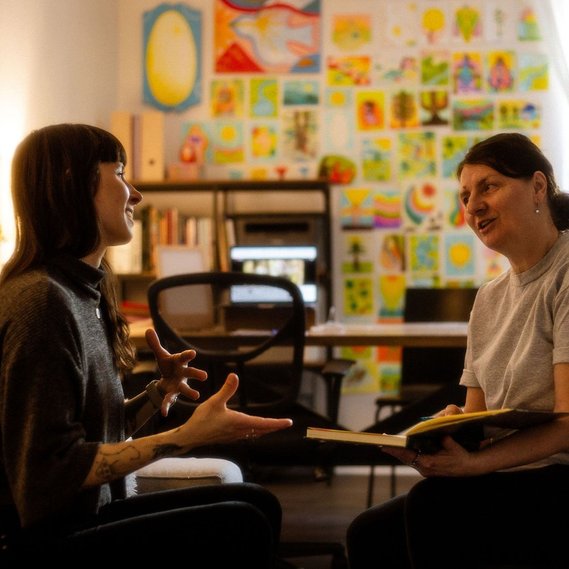 Sessions for art therapy students
Are you a potential or current art therapy student? Would you like to experience the power of individual art therapy sessions? Do you want to know how it feels like to be in your future client's shoes before you begin offering art therapy?
This type of session focuses on

experiential processing

based on your personal story.






Resonance check
It's hard to tell from reading an online profile whether I am the therapist, guide, or mentor for you. I believe that it's very important to hear each other's voice and feel the energy that is created when we connect before committing to a relationship.
Feel free to book now or fill out this form to get in touch at any time! I will be happy to answer any questions you may have.
Talk soon,
Natalie