Healing Workshops
As an art therapist, I strongly believe in the empowerment that comes from art and play, and the mental health benefits that stem from it. I am certain that all humans are artistic at heart, and that everyone can express themselves through art in their own unique way.

"But I can only draw stick figures...."

That's okay!

And

that's brilliant. Your stick figures can tell you so much about your feelings, struggles, hopes, and dreams.

What would happen if you invited love and acceptance towards your art?



Everyone is welcome in my workshops regardless of skill level. I especially encourage you to come if you haven't done art in a while - allow your inner child to come out and play with other likeminded people.




I provide a calm, safe, meditative atmosphere, solid structure, gentle instructions, and absolute freedom to experiment.



If you are looking to book my sessions for a community health centre, organization,
non-profit, or long term care residence, or private event, please get in touch.


Hope series*
This series focuses on enhancing our relationship with hope, gratitude, and self-love.

The participants will learn a new perspective of positively connecting with themselves and the world.
2-4 workshops
Discovery series*
This series provides a safe space that allows you to deepen insight of your inner parts, and explore your goals, dreams, and emotions.

The participants will learn about themselves.
3-6 workshops
Coping series*
This series offers plenty of time for soothing art making, connecting with others, and learning helpful coping strategies to regulate emotions.

The participants will learn new coping strategies.
2-4 workshops
Online workshops
starting at $175
In person workshops
starting at $300

Art therapy workshops are not a substitute for seeking individual therapy but can be a beautiful space for self-expression and healing.
Themed workshop offerings: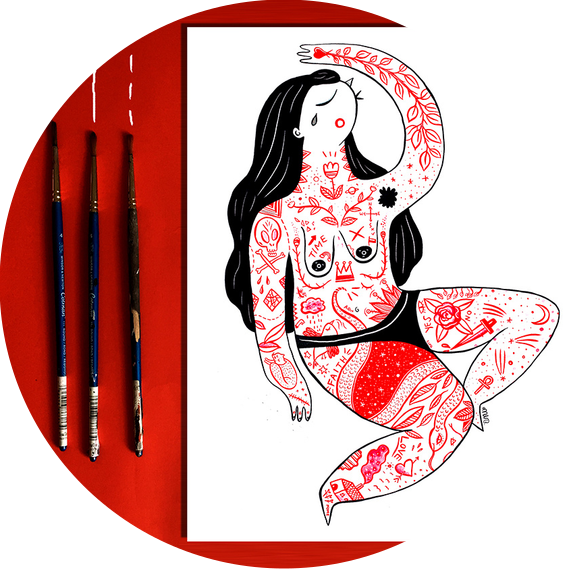 My Body, My Story
Duration: 1-2h
Join Natalie in a safe space workshop where you'll learn how to create an empowering version of a self portrait with ink and tell YOUR story through visual imagery.
During the painting process you'll look at yourself with a newly found kindness and appreciate your own body as a sacred temple and a real work of art. This workshop will focus on body positivity and a variety of inking techniques.
*basic supplies
Tree of Life

Duration: 1h
Over the course of this workshop, the participants will get to create their own tree of life while being gently guided by the instructor.
Step into the realm of healing art making and discover new parts of yourself through drawing, journaling, and self-reflection.
Take the time to deepen your insight to calming music and enter a sense of flow through your own inherent creativity.
*basic supplies
Inner Animals

Duration: 1h-2h
What's your inner animal situation like these days?
If you don't know yet, don't worry. Our inner animals can give us insight into our needs, temperament, and character traits. If we know how to make them happy, we can navigate life with ease. Follow Natalie in an easy, step by step drawing process and engage in self-reflective writing.
Enjoy a journey of metaphorical connections between your spirit, body, and mind, and find a way to establish peace among them. Using animals as visual guides in your drawings, take some time journal and dream up the perfect safe place for all the intricate parts that make you the person you are today.
*basic supplies
Intergalactic Inks

Duration: 1.5h-2h
Over the course of this workshop, the participants will learn the many experimental techniques of India ink and go home with a gorgeous piece of art. This highly pigmented media can create fabulous textures on watercolour paper and become a magical background for your intergalactic artwork. Techniques such as egg drop, bloom, bleed, wet on wet, and wet on dry will be introduced, and once the ink is dry, they will allow for a creation of a highly personalized cosmic landscape filled with stars, constellations, and faraway galaxies.
*professional art supplies